PEACE, LOVE & ICE CREAM – into the ice land of Ben & Jerry's
6 July 2015, Magdalena Markiewicz
If you haven't had a chance to taste them, you must have at least heard about Ben & Jerry's ice cream. These melting in the mouth ice cream won over the American hearts and are succeeding all over the world. But the ice cream is not the only thing that made Ben & Jerry's successful – the company has also benefited from their social campaigns and environmental campaigns. In this context the "Peace, love & ice cream" statement gains its true meaning. So let's take a look at the story behind this brand.
Ben & Jerry – from rags to the ice cream riches

Ben Cohen and Jerry Greenfield knew each other since they were little kids. They grew up in New York and dreamt about great careers. Jerry was unsuccessful in applying to the medical school while Ben decided to quit college. This is when they decided to start their own business. At first they wanted to make and sell bagels, but the business turned out to be too expensive. This is why they graduated from a quick correspondence course for ice cream making that cost them just 5 dollars. With this fresh knowledge they decided to try opening their first business in Burlington, Vermont in the eastern part of the U.S.

Ben and Jerry raised 12 thousand dollars (4 thousand of which were borrowed) and launched their first ice cream shop in the refurbished petrol station on May 5, 1978. By then they were not aware that their ice cream will become an icon and their names will be known to every American child. Ben & Jerry's ice cream were special at that time. It was about this special recipe for the ice cream which resulted from…Cohen's condition. Cohen suffered from anosmia which is the inability to perceive smell. To compensate for Ben's lack of olfaction his partners decided to mix the ice cream with large pieces – chocolate, cookies, nuts etc. This made Ben & Jerry's ice cream so recognisable and adored around the country.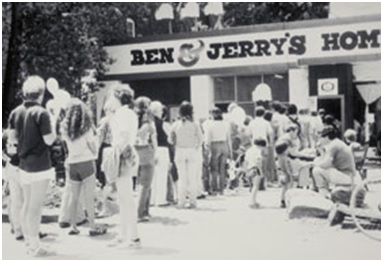 Encouraged with such great demand Ben and Jerry rented an old windmill in Burlington in 1980 and started the production of their take-away ice cream. They packed their products in boxes and delivered them with an old Volkswagen to the local stores and restaurants. Soon the ice cream turned out to be the best delicacy in the city and more and more people wanted to try them. News on the heavenly taste of Ben & Jerry's ice cream spread around other towns and this led to the launch of their first franchise ice cream stand in Shelburne.
Competition is never asleep

In 1983 Ben & Jerry's ice cream became popular around the country. The company prepared "the largest ice cream dessert in the world" which weighed over 23 pounds (over 12 kilograms). This is when Ben & Jerry's ice cream were noticed not only by the clients but also by the competition. In 1984 Häagen-Dazs which was already at the market for 23 years felt the threat and tried to limit the distribution of Ben & Jerry's ice cream in Boston. In response Ben and Jerry organised the famous campaign "What's the Doughboy Afraid Of?" and sued Häagen-Dazs. The mascot of Pillsbury (the owner of Häagen-Dazs) was a white doughboy. The campaign succeeded. Häagen-Dazs was flooded with letters and phone calls from angry customers and had to let it go. The issue reappeared in 1987 when the competition tried to limit the freedom of Ben & Jerry's again. It ended up in court.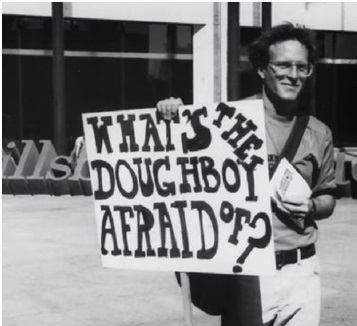 Campaigns – successes

Next to the taste of their ice cream Ben & Jerry's are famous for their campaigns and social projects. The owners of Ben & Jerry's have decided that with the use of their product they have a chance to support numerous social initiatives. In 1985 Ben & Jerry's Foundation was created to support local projects. This is how the company wanted to thank their local town for the support they received while developing their own ice cream business. In 1990 "Support Farm Aid" appeared at the packaging for Ben & Jerry's ice cream to support "Farm Aid" – the organisation that prevented displacing farmers from their land. The company always highlighted that ingredients for their ice cream come only from the local farmers.
In 1992 Ben & Jerry's started cooperation with another NGO – Children's Defense Fund. The aim of their joint campaign was to draw more political attention to the basic needs of children. The campaign was a success. Around 70 thousand cards pointing out issues faced by children were sent to the Congress. But this was not the end. In 1999, 5 years after the company started distribution of their products at the British market, Ben & Jerry's started fundraising for the British children. The campaign was organised in cooperation with Childline organisation.

Although in 2000 Ben & Jerry's was taken over by Unilever the company decided to continue its mission. It got involved in Greenpeace campaign on global warming. Half-a-ton block of ice cream was placed in front of the American Congress to represent the influence of oil drilling in the Arctic on the environment. Apart from that a special edition of "Save our Swirled" ice cream was created.

For years Ben & Jerry's has been also involved in the Fair Trade movement that supports local manufacturers e.g. local farmers. The company has often stressed that they care about quality products, protecting the environment, supporting farmers and local communities more than their income.
Ben & Jerry noticed that the packaging for their ice cream is a great medium for spreading their ideals. To support same sex marriages in 2009 the company changed the name of one of their ice cream from "Chubby Hubby" to "Hubby Hubby". The packaging presented a rainbow and a same sex married couple. "Legalising same sex marriages in Vermont was a step in the right direction which is really important for us, celebrating love with a large portion of ice cream is a great idea for us" – said Walt Freese the representative of Ben & Jerry's.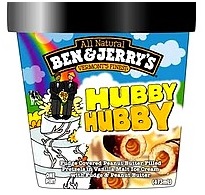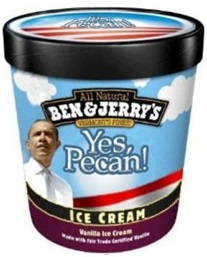 Similar support of the company was presented during the American presidential election. In order to support Barrack Obama Ben & Jerry's changed the name of their pecan ice cream to "Yes Pecan" which relates to Obama's "Yes we can".
The campaign received enthusiastic support from Obama's voters.

The story of Ben & Jerry's proves that it's worth to use your product to support important causes, even risking to lose some of your customers. This is what many producers and companies are not brave enough to do these days. But of course hippies are able to do a lot of stuff – Peace, love & ice cream!